The future of ESG (Environmental, Social, and Governance) reporting explored

The Environmental, Social, and Governance (ESG) reporting landscape is evolving rapidly and will change even more so in the coming months and years, and as a result has become a focus of the GPPC.
We are pleased to share 'Perspectives on ESG Reporting – The future of ESG Reporting explored' which has been issued by the Global Public Policy Committee (GPPC).[i]
The GGPC has brought together representatives from the reporting and assurance, corporate governance, investor and policy making communities from across the world to participate in four regional roundtable discussions to consider the current ESG reporting landscape so they could contribute their knowledge and experience on this complex topic.[ii]
These discussions, focussed on answering three broad questions on ESG reporting and assurance which were:
• where are we now?
• where do we want to go?
• how do we get there?
The output of these discussions aim to provide a view to helping standard setters and public policy decision makers identify potential approaches to better align corporate reporting and auditing solutions with stakeholder and societal objectives.
Perspectives on ESG Reporting
This paper draws out key points made by the roundtable participants and highlights areas where there is both convergence and divergence of opinion.
Download PDF [727 kb]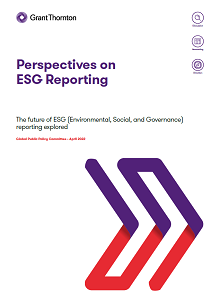 __________________________
[i] The GPPC comprises representatives of the six largest accounting networks being BDO, Deloitte, EY, Grant Thornton, KPMG and PwC.
[ii] The regional areas were the Americas, EMEA (Europe, Middle East and Africa),
Asia Pacific and Oceania