Grant Thornton's unique Global business pulse index has tracked performance of several industries between 2020 and the same period in 2021. The telecoms, media and technology (TMT) industry turned positive in H1 2021, with the index marginally above the global average.
The outlook in the sector surged to a record high of 67, driven by positive investment intentions and conditions. Conversely, restrictions worsened 9 points owing to rising concern about demand and supply constraints. The media sector was the most pessimistic in outlook.
Technology was the most optimistic sector within TMT, as technology investment and adaptation over the past 18 months continue to drive long-lasting change, as patterns of work life in particular keep shifting. TMT businesses anticipate a significant increase in revenues from international markets, and 53% of tech businesses will devote more employees to focus on international markets.
Technology continued to enable businesses and individuals to operate in virtual settings, which required infrastructure and system upgrades, therefore the sector long with its tertiary related services experienced exceptional global growth.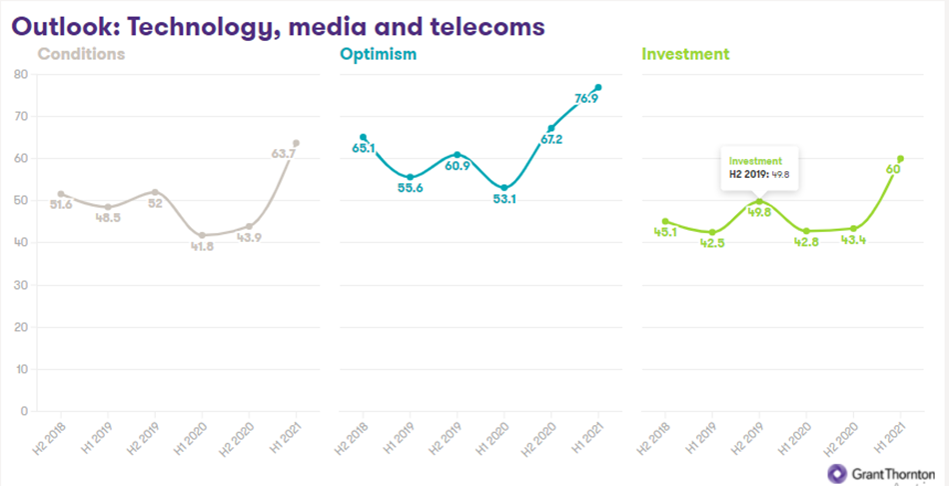 Across Saudi Arabia, spending on information and communications technology is set to reach $32.9 billion this year, up 1.5% on 2020. IT spending in the country (including mobile devices, storage, hardware, systems, and software) will grow 4.2% year on year, with the government, finance, and communications sectors to spend in excess of $3.6 billion on IT in 20211.
Furthermore, as the Kingdom continues to progress towards realising its Vision2030 strategy, several key initiatives have spurred the growth of the industry, which include:
A new digital economy policy which creates a roadmap for investments
A cloud-first policy for Government IT spending
The announcement of new city 'The Line', which will be cashless, 100% 5G, and will pioneer AI-driven environments
Reforms which encourage attraction of blue-chip multinational investment and new talent.
Additionally, the investment and development of the SME and start-up ecosystem continue to drive growth across the industry.
That said, among supply constraints, global technology firms expressed concerns over a shortage of skills and rising labour costs, an issue predating the pandemic. More technology businesses are thinking about long-term talent supply, spreading the net wider to attract skills, and addressing the challenges that come with that.
As Saudi Arabia gradually ease its pandemic restrictions, small and medium sized businesses have identified better data and insights (47%), training and upskilling staff (46%) and access to training and development support (44%) as the top drivers for growth. This highlights the opportunities for small businesses that arise from both internal transformation as well as industry regulations and trends.
Making sure that SMEs have all the support they need to go digital and grow digital is a key focus2.
With increasing internationalisation, the role of technology will only continue to grow, particularly across the Gulf markets.
To discuss your technology needs contact Imad Adileh, Principal and International Business Director.
1 https://www.idc.com/getdoc.jsp?containerId=prMETA47399121
2 https://newsroom.mastercard.com/mea/press-releases/83-of-smes-in-saudi-arabia-optimistic-about-future-growth-guided-by-potential-for-digitalization-access-to-better-data-training-and-upskilling-mastercard-mea-sme-confidence-index/