Grant Thornton's unique Global business pulse index has tracked performance of several industries between 2020 and the same period in 2021. The overall healthcare industry index score turned positive in H1 2021, climbing nearly 7 points to 1.6, which is higher than the global average
Eight of the 13 monitored mid-market industries returned to positive health in H1 2021, as assessed by Grant Thornton's unique Global business pulse, compared with just two in H2 2020. And the spread of index results narrowed markedly, as more industries enjoyed the benefits of the overall mid-market recovery.
Among the biggest industry movers, transport jumped 10.4 points into positive territory to 0.7, while healthcare and manufacturing rose 6.6 points, both also returning to positive ground.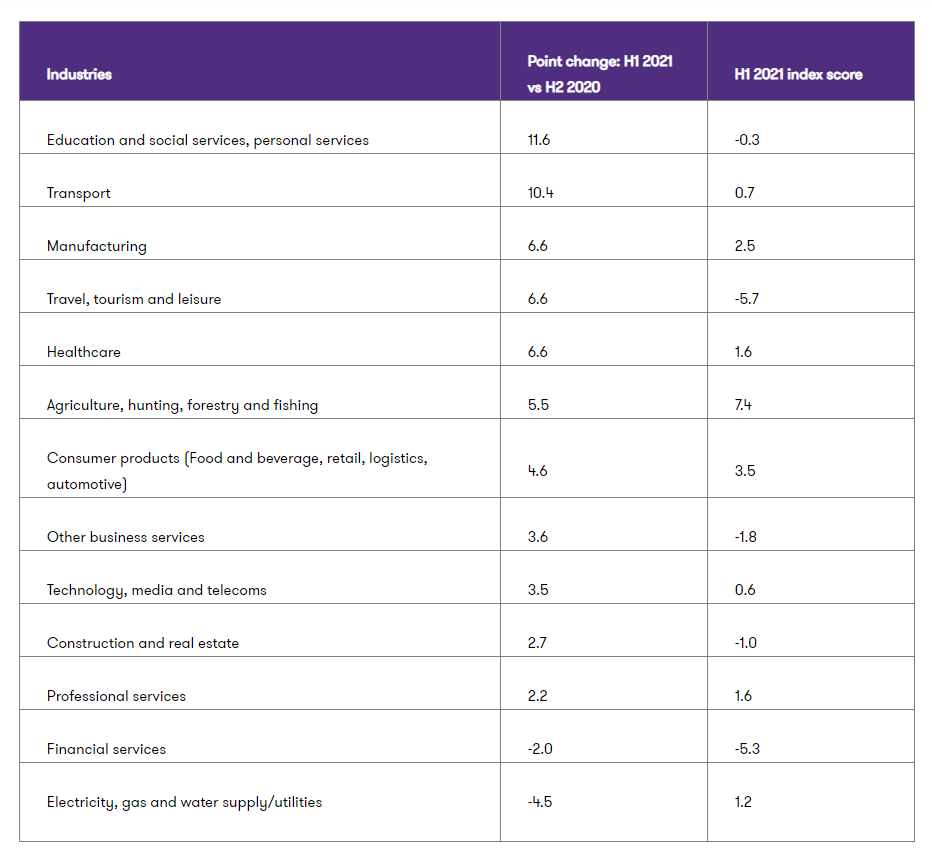 Travel, tourism and leisure
The travel, tourism and leisure (TTL) index also rallied in the past half-year, rising 6.6 points to -5.7, after experiencing falling revenue expectations and rising barriers to growth in H2 2020. The new research found that over half (58%) of the industry now expect revenues to increase, up from 27% in the previous half. But uncertainty remains high at 67%, with unpredictable travel restrictions and new outbreaks of the COVID-19 Delta variant forcing businesses to adapt to ever-changing circumstances.
Telecoms, media & technology:
The telecoms, media and technology (TMT) industry turned positive in H1 2021, with the index marginally above the global average. The outlook in the sector surged to a record high of 67, driven by positive investment intentions and conditions. Conversely, restrictions worsened 9 points owing to rising concern about demand and supply constraints. The media sector was the most pessimistic in outlook.
Technology was the most optimistic sector within TMT, as technology investment and adaptation over the past 18 months continue to drive long-lasting change, as patterns of work life in particular keep shifting. TMT businesses anticipate a significant increase in revenues from international markets, and 53% of tech businesses will devote more employees to focus on international markets.
Financial services
After showing strength in H2 2020, the financial services (FS) industry index declined 2 points and remains in negative territory at -5.3. Supply and demand constraints dragged on the overall FS industry, despite a sharply improved outlook rising to 62, close to the record high of 64 in early 2017. Increasing optimism and improved conditions and investment supported the outlook, as economies started to open and other industries begin to look for finance to help them recover and grow.
While asset management was the most buoyant within the FS industry, banking has shown resilience over the past year, and optimism within the sector is in line with the global average. Banks' growth expectations for the next 12 months were above the global average.
Healthcare
The overall healthcare industry index score turned positive in H1 2021, climbing nearly 7 points to 1.6, which is higher than the global average. The outlook rose by a robust 12 points to 52, above the pre-pandemic level of 51. This was driven by a strong rebound in optimism, shooting up 27 percentage points (pp) to 65%, following a sharp fall in H1 2020 and only modest improvement in H2.
The re-opening of countries is certainly supporting demand and boosting optimism. The industry is also benefiting from a change in its public image.
To discuss the industry insights further, contact Imad Adileh, Principal and International Business Director.